---
History DRIESCHER Moosburg
Right back at the beginning of the last century, Fritz Driescher Sr. (born 1886; died 1951) recognised how important power supply would become in the coming years.
When he was just 24, he founded a company in Kapellen am Niederrhein in 1909 and thus established the foundation for the successful history of DRIESCHER that has continued through to the present day.
In the early years, the focus was on the electrification of wells, centrifuges, chaffcutters and lathes. He already employed 30 electrical fitters just a year after starting the company.
In 1925, the company moved to larger facilities in Rheydt.
A large subsidiary work was opened in Moosburg in Upper Bavaria in 1939, which was taken over by Fritz Driescher Jr. in 1948 (now known as DRIESCHER Moosburg).
In 1951, the youngest son of Fritz Driescher Sr., Heinz Driescher, took over the company in Rheydt and decided to move and to build a new plant in Wegberg in the late 1950s (now DRIESCHER Wegberg).

---
The 1950s
1950 45, 60 and 110 kV outdoor centre-break disconnectors
1951M 3000 oil-less switch disconnectors
2680 low-oil circuit breaker with breaking capacity of 200 MVA (poles made of plastic)

1952 First circuit breaker with short-interruption capability with short-interruption relay
1953 First truck-type switchgear in Hofheim, near Würzburg
1956 First withdrawable-unit design
1959 FLa 15/60 outdoor switch disconnectors
---
The 1960s
1966 First fast-switching and make-proof earthing switches
L265 12 kV – 36 kV low-oil circuit breaker
Panels with 800 mm separation
Presentation of the first production-ready 24 kV vacuum circuit breaker at the Hannover Messe trade fair

1967 First testing of panels for personal safety in accordance with Pehla
1968 403 low voltage load-switching system, high voltage, high-rupturing-capacity fuses with thermal protection
---
The 1970s
1972 FLa 15/Vac outdoor switch disconnectors with vacuum interrupter, 2000 A
1973 Cast resin insulators for outdoors
1975 Cast resin insulators for indoors and bushings for outdoors and indoors
1976 20 kV and 30 kV shackle insulators
---
The 1980s
1982 H 27 indoor switch disconnectors
---
The 1990s
1991 Founding of DRIESCHER Eisleben (D)
1992 Founding of DRIESCHER Zichovice (CZ)
"FGS" high voltage, high-rupturing-capacity fuses with thermal protection (reduced activation temperature) for gas-insulated switchgears

1994 DIN ISO 9001 certification
1995 Founding of DRIBO, Brno (CZ)
1997 FLa 15/97 outdoor switch disconnectors with vacuum interrupter
1998 2500 A, 12 kV indoor vacuum circuit breakers
1999 H 27, 630 A, 12 kV indoor switch disconnectors
---
From 2000 onwards
2001 FTr-1B outdoor disconnectors for railway systems, 2000 A, 25 kV
2002 Withdrawable-unit CB panel (EL) 600 x 1100 x 2100 (WxDxH), 12 kV
2002 Founding of Driescher Energy Solutions in Moosburg (D)
2003 Panels with two- or three-compartment isolation and pressure relief duct
2004 Withdrawable-unit disconnectors up to 1600 A, break disconnectors up to 2500 A
2005 Founding of Xi'an Driescher Energy Solutions Co. Ltd. (P.R. China)
2008 High-current disconnectors up to 8000 A, earthing switches for DC and AC applications on rail networks
2010 FTr-1B outdoor disconnectors for railway systems, 2000 A, 3 kV DC

History DRIESCHER Eisleben
A lot has happened since Elektrotechnische Werke Fritz Driescher & Söhne GmbH was founded 75 years ago:
The range of services has been adapted to the changing market requirements, the production area and number of employees have grown, additional sites have been purchased and sister companies have been founded…
But some things have stayed the same:
Specialist expertise, high quality standards and innovative thinking and actions are EXTREMELY important at our company!
---
DRIESCHER Eisleben was founded on 01.07.1991 in Lutherstadt Eisleben as a sister company to Elektrotechnische Werke Fritz Driescher & Söhne GmbH.
DRIESCHER Moosburg was well known in the newly-formed German states and in prominent expert circles. So what could be better than to make use of this fact and to found a separate, legally independent company in Mansfelder Land. Major factors in this decision will definitely have been the potential afforded by the extremely well-trained expert work force and the favourable geographical location of Eisleben.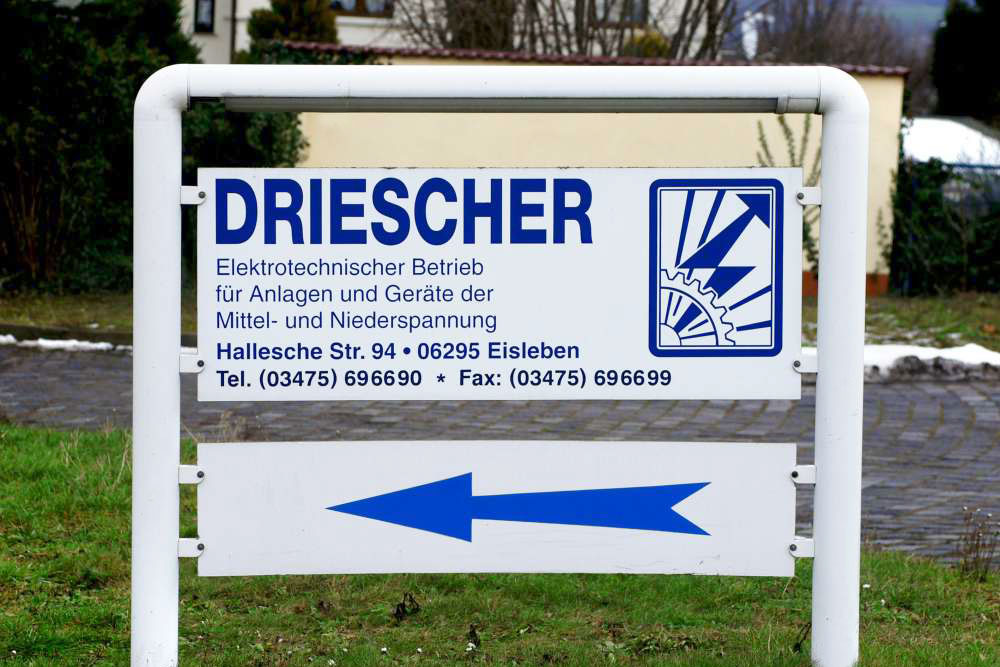 ---
At the start of 1992, following an extensive training phase at the parent company in Bavaria, the company's own production began on the site of the former Brosowski pit close to Eisleben.

Just 2 years later in 1993, DRIESCHER Eisleben had achieved a significant market share in energy supply services. Supported by the experience of the parent company and with the help of the flexibility and commitment of its employees, the company was able to meet the high demands of the customers.

---
DRIESCHER Eisleben specialises in low-voltage switchgears and switching devices. Through a consistent focus on proximity to the customer and with the knowledge of existing and new energy supply structures, DRIESCHER Eisleben is now not only a producer of MV and LV switchgears and their device components, but also supplies and installs complete transformer stations including all coordination measures as a service to the customer.